The idea of eating a potato that's pretending to be a deviled egg might sound a tad unappealing. But what's more gross; a potato imitating an egg, or an actual egg? One is a vegetable, and the other is the product of an animal's reproductive system. I'll let you think about that for a minute. Potatoes make a great substitute for deviled eggs because, like hard-boiled eggs, they're a creamy background for the other flavors. The combination of mayo, mustard, and vinegar is largely responsible for the flavors of a deviled egg, which carries over in deviled potatoes. Small, egg–sized potatoes conserve that "I'm–eating—something–small–and–fancy" vibe that you want from a tray of hors devours. Plus, you can leave these sitting on a counter amongst other appetizers for a few hours without fearing that you might ruin a party by dying of food poisoning. Nobody needs that kind of stress on top of the anxieties of being social— deviled potatoes are the clear winner here.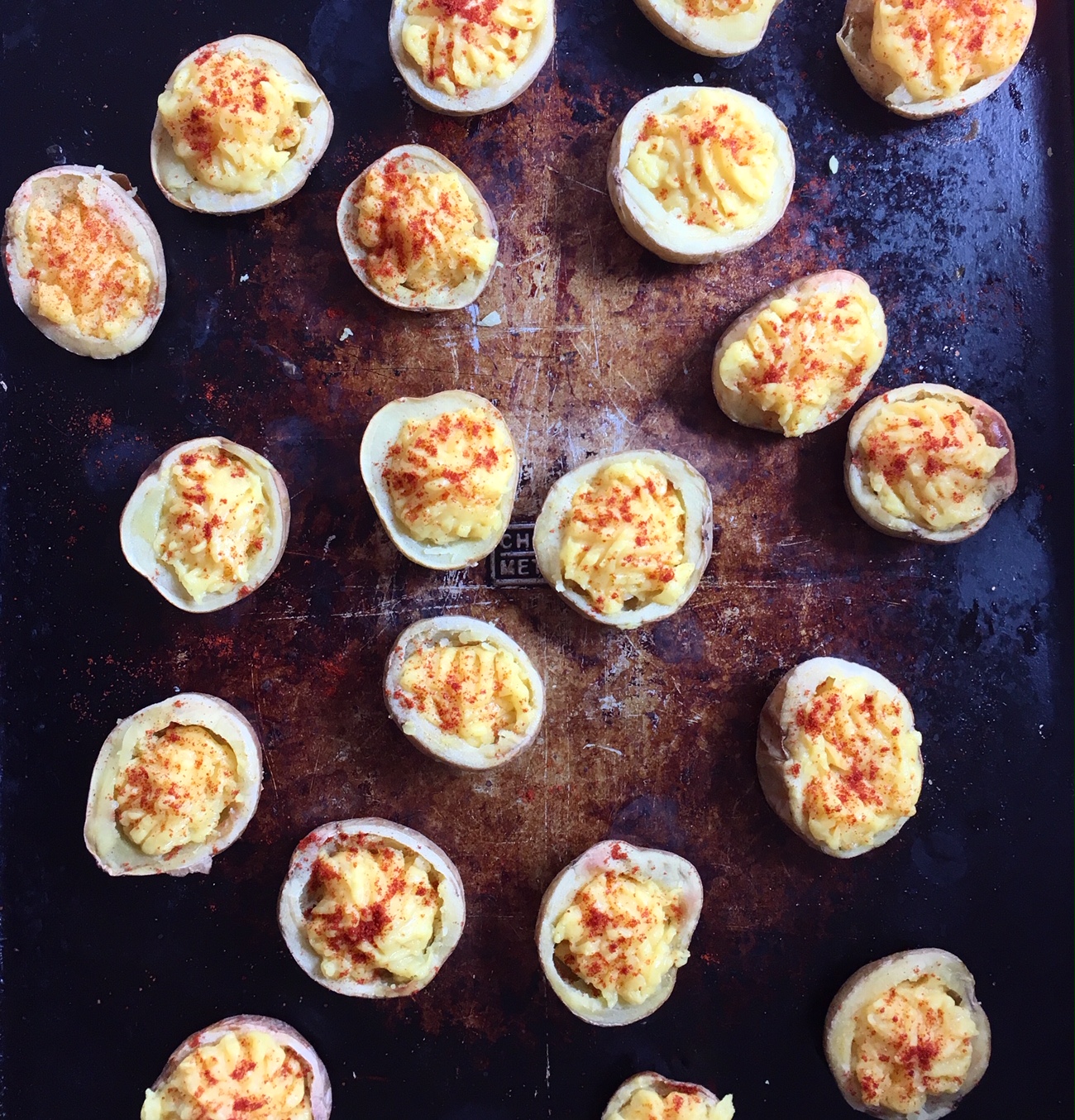 What:
small yellow potatoes vegan mayo mustard white vinegar olive oil turmeric paprika Salt & pepper
How:
Toss potatoes in olive oil, salt, and pepper. Bake at 350º until tender. Once cool enough handle, halve lengthwise and scoop out the centers, leaving a thin layer of potato attached to the skin. Return potato skins to the oven and bake to desired crispness. Mash the potato centers and mix with mayo, mustard, vinegar, salt, and pepper to taste. Add turmeric in small increments for color while tasting to avoid adding too much flavor. Pipe or scoop the mashed potato unto the skins. If you want to fake a piped appearance, swirl the filling with a fork to create ridges. Sprinkle with paprika and serve.
What did I use and why?
I used Vegan Hellman's Mayo for the dressing, which is quite possibly my favorite vegan imitation of a non–vegan product. I honestly think it may be indistinguishable from the real deal.