Vegan pizzas that are just 'normal pizzas minus cheese' are no fun. If you're not a fan of vegan cheese and you're sick of real pizza's sad, cheeseless cousin, try mixing it up with new sauces and toppings. Call this creation a pizza or a glorified flatbread–either way, it's better than a sad slice of crust with marinara. Toasted walnuts add heartiness and texture to the pizza while providing healthy fats and protein; think of them as nature's sausage, if you're so inclined. The pureed onion spread enhances the flavors of the veggies, rather than drowning them in tomato flavor like a traditional sauce. Enjoy the complex flavors of this pizza on its own, or use it as a mop for BBQ sauce and vegan ranch. No judgement.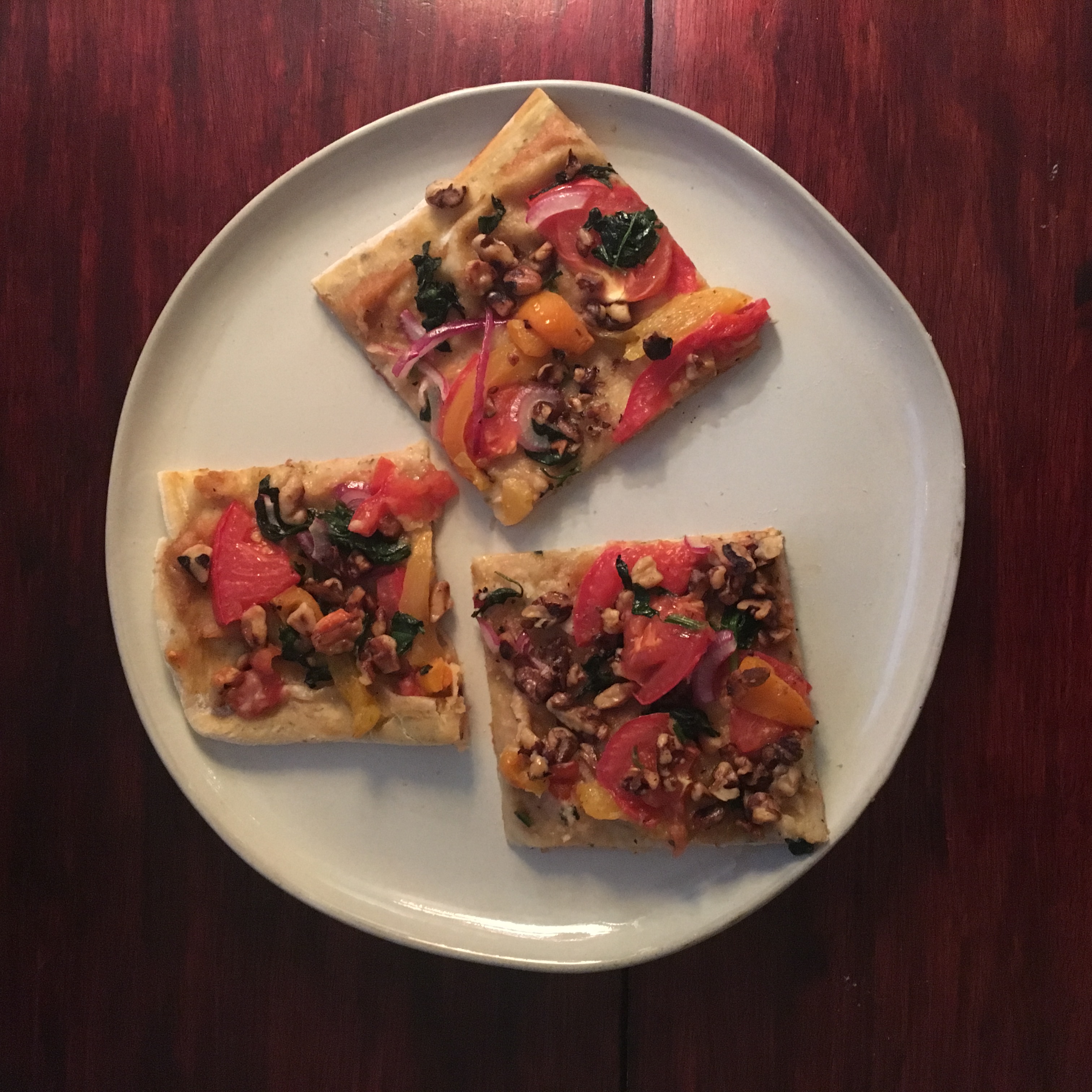 What:
Pizza dough Walnuts Fresh tomatoes Red onion Yellow bell pepper Spinach Yellow onion Garlic (fresh or powder) Olive oil Salt & pepper
How:
Roll room–temperature pizza dough into desired shape and pre–bake at 350ºF until it's lightly cooked through. While the dough bakes, add chopped walnuts to a separate baking sheet and bake for a few minutes until toasty. Dice a few yellow onions and sauté with olive oil, salt, pepper, and garlic until translucent. Once cooked, blend onion mixture into a paste using a food processor (if you're feeling lazy or don't have the ability to blend the onions, leave the cooked mixture as a chunky spread). Use the pan you cooked onions in to sauté some spinach; the onion and garlic residue will add flavor to the spinach. When the pizza crust is done pre–baking and no raw areas persist, add the onion spread and pizza toppings and return to the oven until the crust becomes golden and the veggies are cooked. Slice and consume.
What did I use and why?
I used Trader Joe's refrigerated pizza dough because the ingredients are simple and nobody has time for making dough from scratch on a weeknight. If your local grocery store's bakery makes pizza dough for purchase, there's a good chance it's vegan (just make sure to check the label). Vegan pre–cooked pizza crusts are harder to come by; I've found that they often contain milk ingredients (and unwanted preservatives), even though most traditional pizza doughs are vegan.