Roux Battered Eggplant is a classic comfort food under a new name: it's eggplant parmesan without the dairy. So, if you were expecting something fancy, I'm deeply sorry to disappoint. I hope this recipe makes it up to you. Picture this: a sweaty slice of eggplant lays down on a beach of breadcrumbs. As the eggplant rests, a few breadcrumbs stick to its skin. The eggplant decides to ditch the beach and walk home, but forgets to apply sunscreen, and becomes dry and leathery along the way. As it hobbles along, a few crumbs still cling to the eggplant in unspeakable places. Dry, barely breaded eggplant just doesn't sound so good, does it? A roux is a mixture of flour and butter or oil that is cooked into a paste over the stove, and it is what makes the eggplant in this recipe different from the beach–going eggplant. With added nutritional yeast and seasonings, the roux doubles as a batter and a cheese substitute. Because the mixture naturally thickens with heat, you won't need to fuss about egg replacers. In my opinion, breaded eggplant should be crispy on the outside, tender on the inside, and coated with a very intentionally thick layer of breadcrumbs.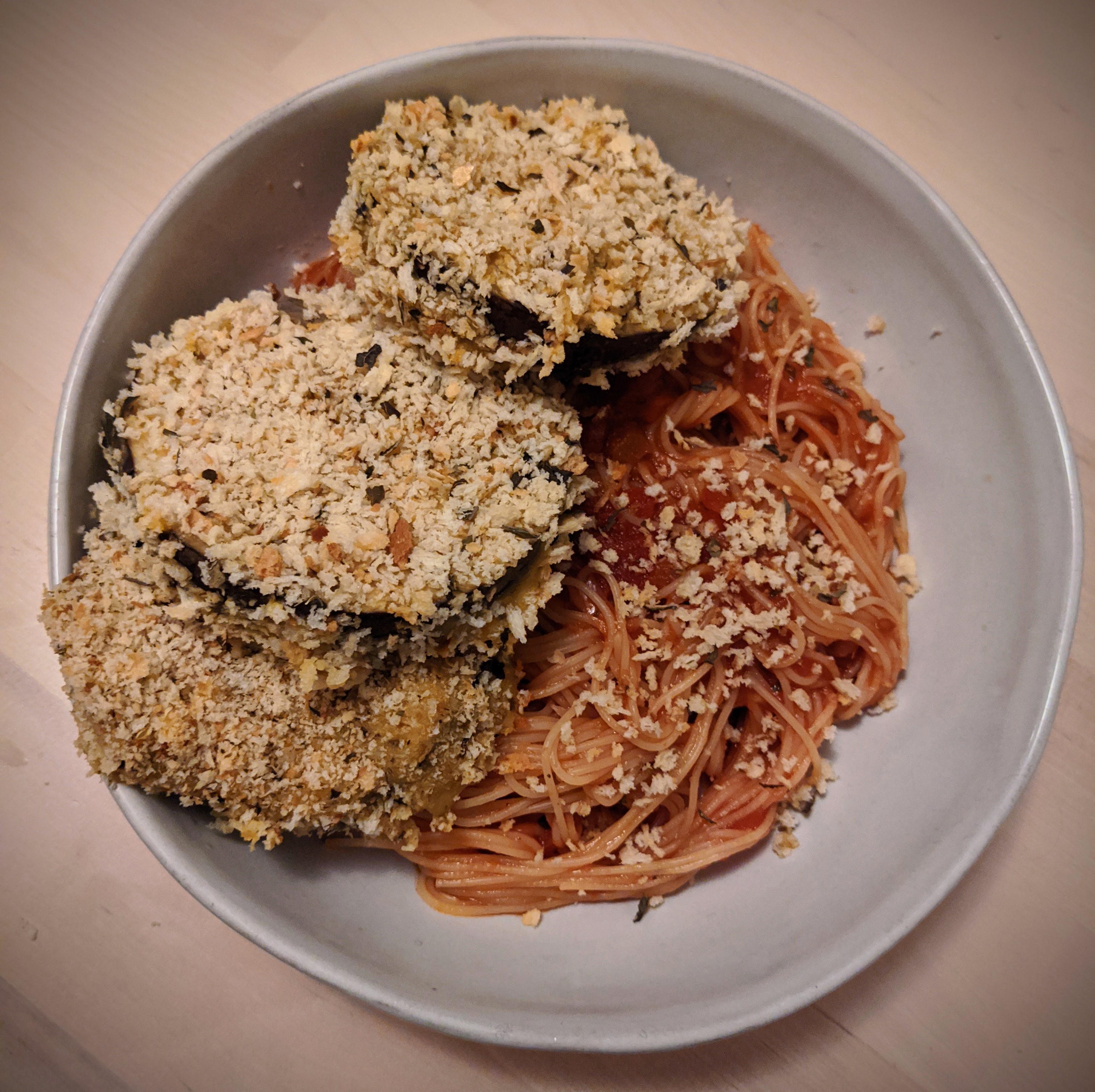 What:
roux:
vegan butter

flour

nutritional yeast

salt

diced garlic

pepper

oregano

basil

vegan milk


breadcrumbs
eggplant
angel hair pasta
marinara sauce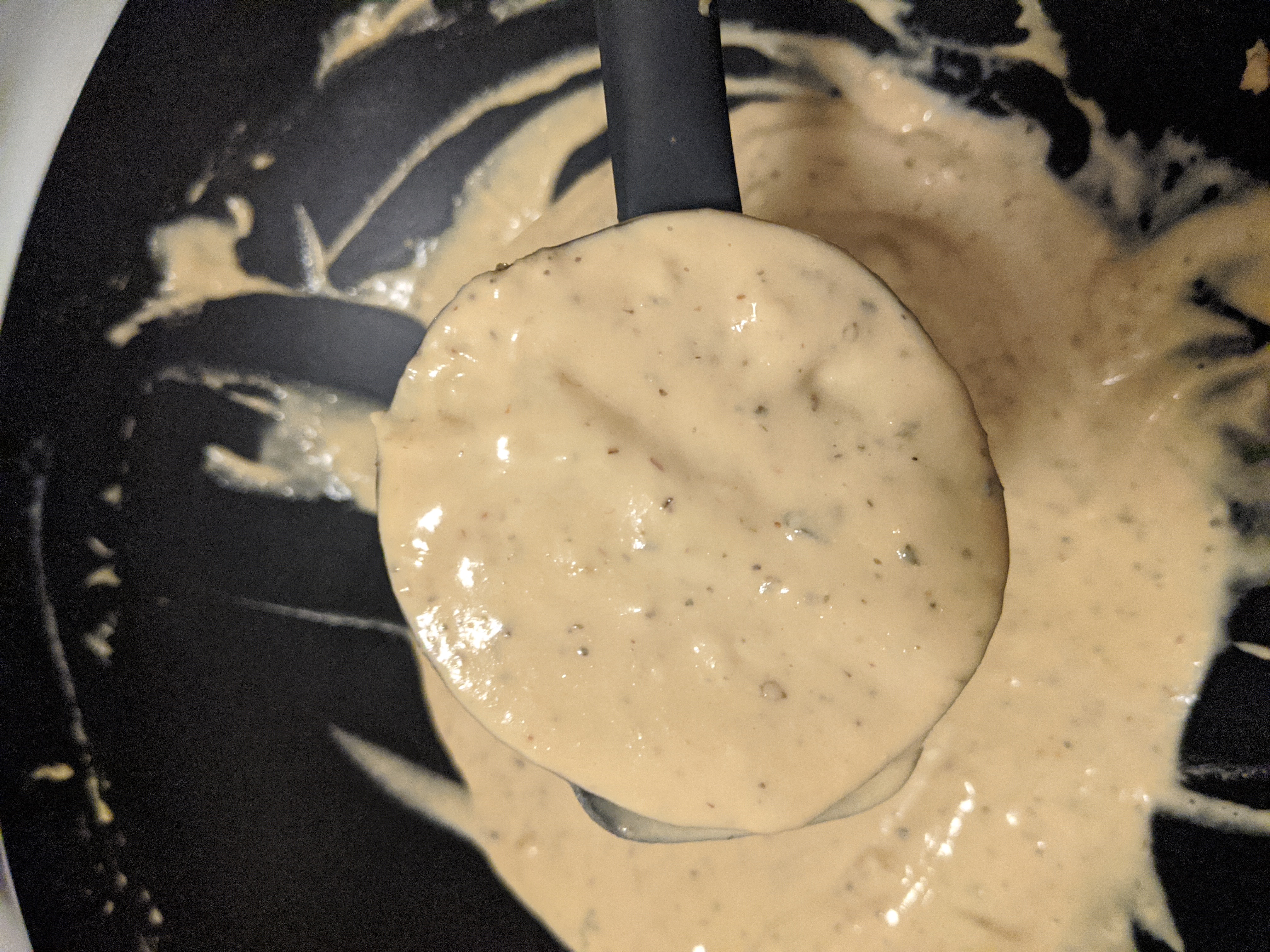 How:
Slice eggplant and toss with a copious amount of salt (this will draw out excess moisture). Let eggplant sit in the fridge for an hour or two. Rinse with water and blot dry before coating with batter and cooking.

Make the roux:
Melt butter/oil in a frying pan until it bubbles.

Add garlic.

Season with spices and nutritional yeast.

Add flour until a thick, almost cookie&ndashdough consistency is achieved.

Thin with vegan milk until the roux is slightly less thick than pancake batter.


Season breadcrumbs with nutritional yeast, garlic powder, and dried Italian herbs.
Dunk eggplant slices in the roux, then coat with breadcrumbs.
Bake slices at 350º F until golden brown (a spritz of olive oil onto the breadcrumb coating will help with browning).
Serve over pasta and marinara sauce.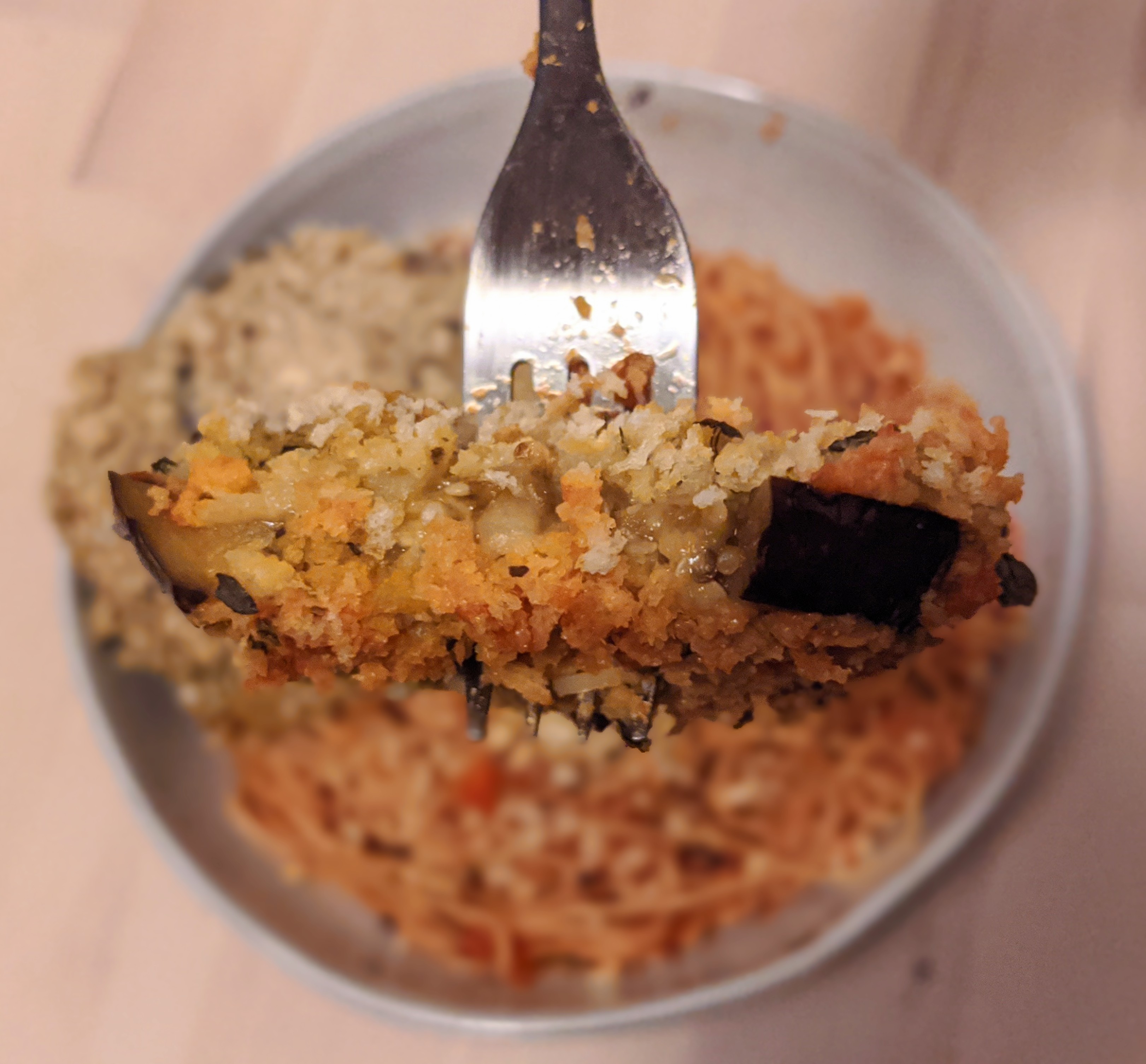 What did I use and why?
I used Earth Balance for the vegan butter, but any vegan butter should work! You could also substitute with olive oil.